Campus Ecosystem
MSU is transforming its 5,200-acre campus into a live, connected ecosystem across 8.1 square miles of contiguous urban, suburban, industrial and rural zones, making it a one-of-a-kind environment to study all areas of mobility advancement.
MSU Mobility: Driving the Future
Advancing traffic management in a pedestrian-intense environment:
The MSU campus offers an excellent resource for developing and testing advanced safety and mobility management systems:

Networked smart signals including vehicle and pedestrian sensors

Campus ecosystem provides data for decision support, research and virtual testing

Dynamic, predictive signal and routing

System sync to police and emergency services

Signal control to optimize traffic flow during campus events

Sensor-driven parking management app

Campus Resources:
5,200 acres (8.1 square miles) of u

rban, suburban, industrial and rural zones

Nearly 60 miles of roads ideal for evaluating mobility during four seasons of weather
More than 120 miles of pedestrian walkways and sidewalks
Nearly 20 miles of bike lanes
Nearly 40 traffic signals, with a planned system for real-time traffic control
Diverse population with 70,000 students and faculty, and more than 100,000 people on game days
545 occupied buildings
26,000 parking spaces
30,000 vehicles on campus daily
85-member police force, providing flexibility in traffic management

Spartan Mobility Village, the new home of MSU's

mobility labs where roadways and parking lots can be closed for testing of new technologies. In the future, unoccupied buildings will be used as a background for sensing technologies, including radar clutter simulating the sub/urban environment.
Campus Interactive Map:
MSU Mobility teams facilitate the movement of people and things across the MSU campus.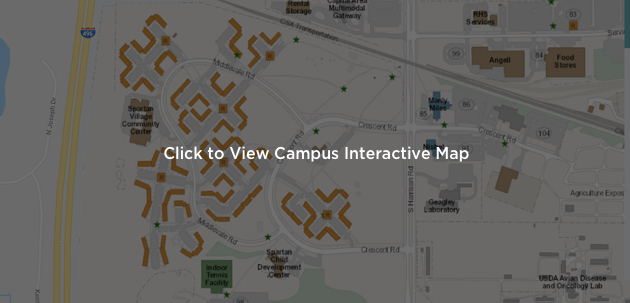 Campus Mobility Zones: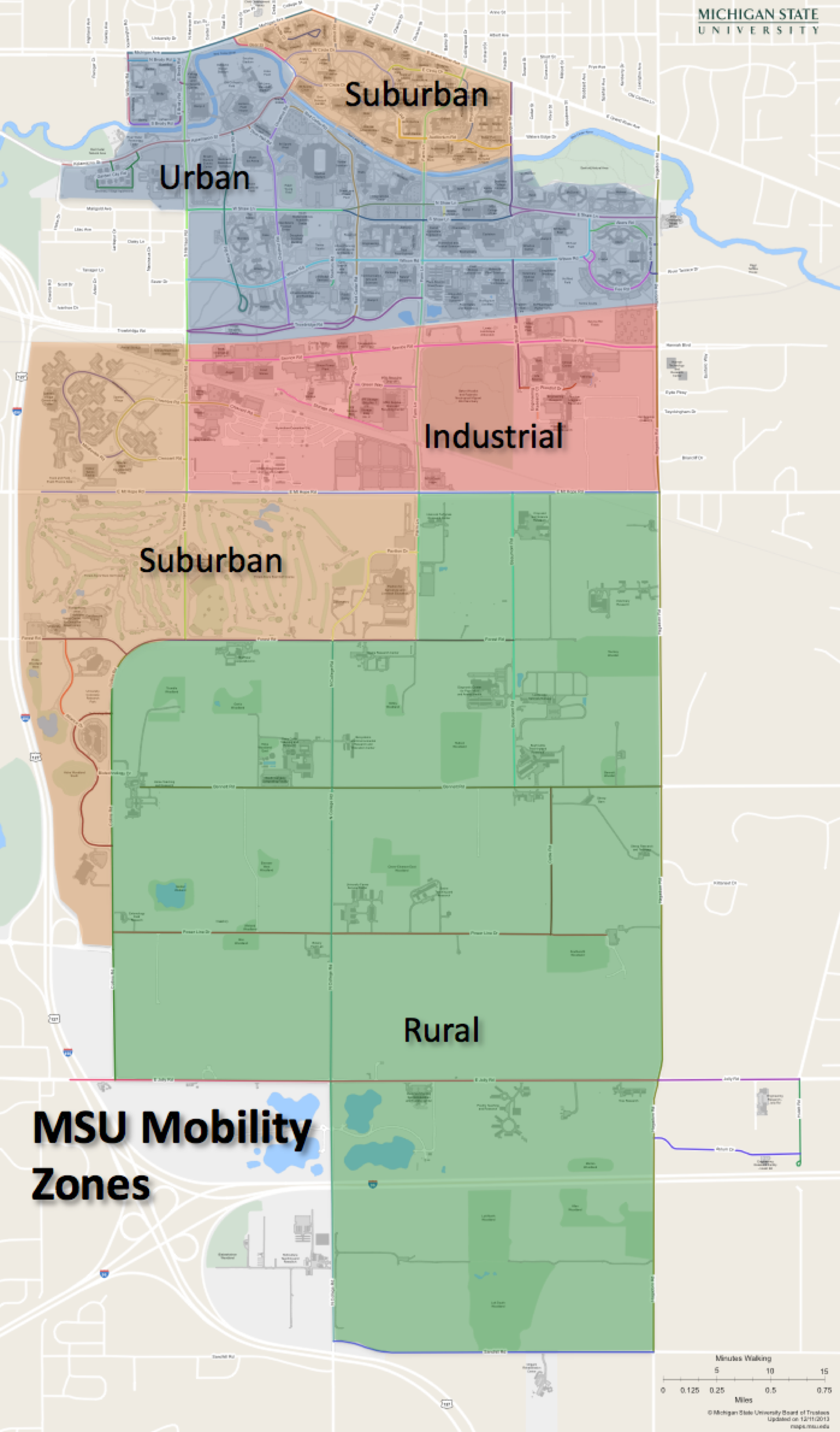 We develop robust and ever-changing plans to move students, faculty, staff, visitors across campus – by car, bus, trucks, motorcycles, scooters, bikes, walkers and more. We engage all stakeholders in order to provide the solutions that improve campus mobility for all. 
V2X Infrastructure:
TMS: Centracs ATMS by Econolite
TRAFFIC CONROLLERS: Econolite Cobalt
CAMERA SYSTEMS: (11) intersections with Iteris Vantage Next system (allows for Vantage Live software) which is a detection and data collection system
RSUs:  Siemens model TYZ: PXX08912-001 (8) installed in Farm Lane corridor (2019) and include SPaT/MAP
OBU's: Savari MobiWAVE MW1000 (20) installed (2019)